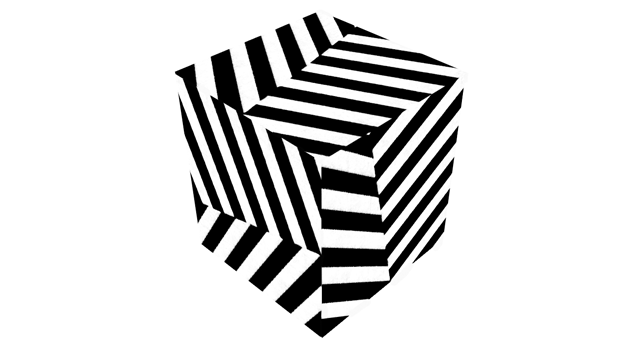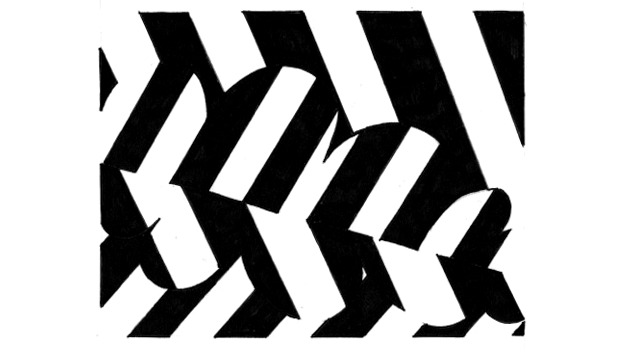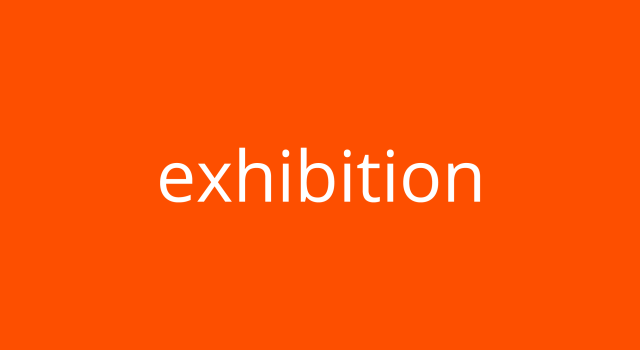 Dazzle Plans | Stephen Hobbs | 2012
Dazzle Plans was an exhibition by Stephen Hobbs in December 2012. This was hosted in Parts & Labour's former gallery space in Arts on Main.
Hobbs' preoccupation with camouflage typologies as visual surrogates for Johannesburg's inherently disruptive nature has extended into a range of mixed media projects, from large scale all over building paintings to conceptual sculptural works. Dazzle Plans, an exhibition in collaboration with Parts & Labour, is a moment of pause from Hobbs' studio where a selection of dazzle concepts are displayed for the celebration of the seductive nature of Dazzle Camouflage itself.

Razzle Dazzle as it was referred to in the early 1900's, was applied in myriad versions to gunships, with the intention of disturbing enemy sites on a target, the zebra like pattern effect would appear to fragment the gunship from different angles.

As warship camouflage, Dazzle patterning was more or less discontinued after World War One. In Hobbs' case his enquiry into the design possibilities of Dazzle, brings to mind the role that aesthetics has played in the creation of deception on the battlefield (made by artists in the military). But more importantly the ironic potential such design forms present for a visual critique of dystopian urban conditions.

Sunday Independant review by Mary Corrigall
Press release by Mary Corrigall, Invisible Entities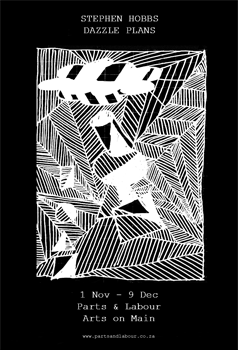 By Stephen Hobbs,  September 2013
More recently, Jonathan Liebman of Propertuity commissioned a Razzle Dazzle design from Hobbs for the Craftsman's Ship Building, on the corner Kruger and Main Streets in Maboneng. The commission is in response to the buildings ship-like North facade and and its name, The Craftman's Ship.
The camouflage pattern was designed specifically for the site, forming part of the greater art in public space logic, inherent to Liebmans vision for the precinct. And deliberately employs the obscuring optics of dazzle camouflage, to obscure the reading of the building. Razzle Dazzle Camouflage was used primarily in the first world war to confuse gunners and render supposed vulnerable parts of battleships illegible. For Liebman, the artwork serves to make the first major visual link to the southern side of his precinct and in its inherent stark abstraction; plays on Johannesburg specific notions of inaccessibility and abstraction and yet appearing hyper visible. The first phase, or street level painting will be finished by early October 2013 and will extend to the roofing and new built elements including a 3 story addition in 2014.
Digital rendering of Craftman's Ship mock up. (East Elevation)
Digital rendering of mock up.
Painted Craftmanship Building on Kruger and Main Rd.