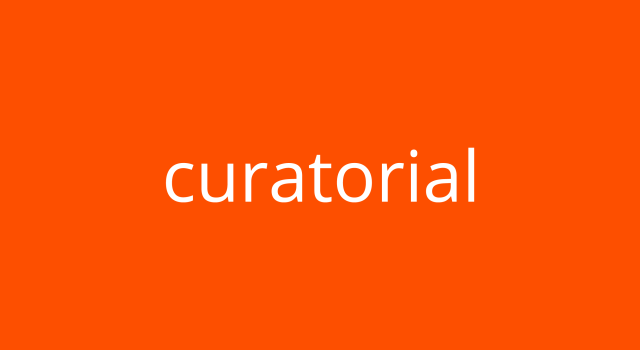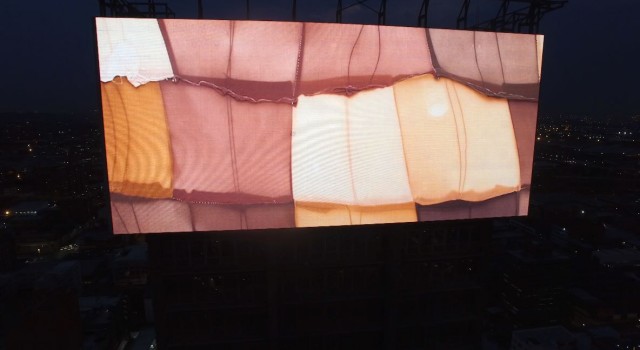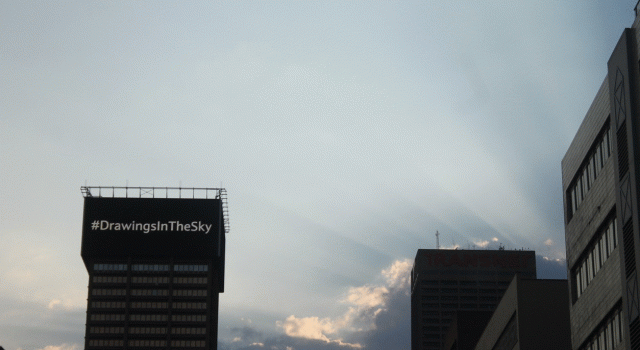 Drawings in the Sky | 2016/15/14
The third edition of Drawings in the Sky took place during Art Week Joburg and the FNB Joburg Art Fair from the 1st – 23rd September 2016.
Parts & Labour has worked with four local artists to create unique video pieces that will run sporadically during the course of the two weeks.
The artists are:  Robyn Penn, Usha Seejarim and Turiya Magadlela.
Special thanks to Absa for their support and collaboration on this project.
Drawings in the Sky  Parts & Labour has curated its third rendition of Drawings in the Sky in collaboration with Absa Bank. The project is an ongoing show in support of local artists who are working in and around Johannesburg where artists are asked to create unique animations that are broadcast on the Absa Lumen in the inner city of Johannesburg.
The Drawings in the Sky animations form a contrast to the usual subject matter displayed on the screen, as the Absa Lumen is not conventionally used to display artworks. This makes it an intriguing platform to showcase video art and reach a widespread audience. The selected artists have created animations that provoke thought and curiosity around their use of materials and forms, where the subject matter has ranged from footage of moving mundane objects to playful animations using colour and shapes. The motivation behind the project is to celebrate the work of artists creating narratives around the various idiosyncrasies that exist in the city, their personal experiences of living in such a complex space as well as speaking to relevant issues with broad implications.
Drawings in the Sky 2016 has a focus on five women who are working with unique materials and artistic processes: Robyn Penn, Usha Seejarim and Turiya Magadlela.
Cloud of Unknowing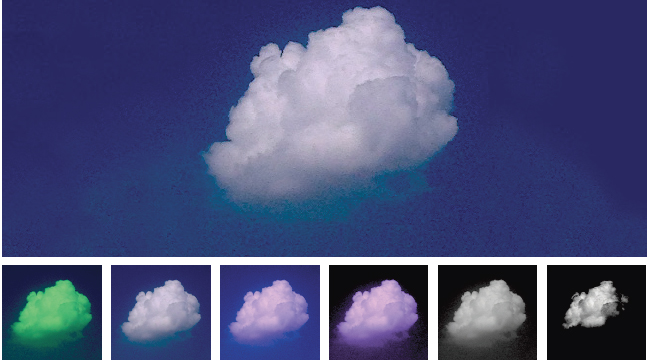 Robyn Penn explores the uncomfortable truths around climate change in the form of paintings, prints and sculpture. For Penn, "climate change is the elephant in the room, which we can't afford to ignore because it is integral to the human narrative on this earth."
Penn combines vast paintings of cloud formations with intimate portraits of so-called "climate misinformers", otherwise known as "merchants of doubt",* from major American oil company owners, the infamous Koch brothers, to influential, conservative-backed US scientists, Frederick Seitz, William Nierenberg, Fred Singer and Robert Jastrow.
For Cloud of Unknowing, Penn conceptualises the earth as a human body. She explains that "at two degrees higher, the body is not well. Similarly, with the earth building to a higher temperature than usual due to industrial emissions, it is sick". Drawing on the power of art, Penn highlights a global failure to properly address the harmful effects of our unhealthy capitalist-driven habits, propped up by free trade policies.
Interspersed among paintings and a sculpture on this theme are prints made in collaboration with David Krut Workshop, which also depict clouds. In these mezzotints and etchings, Penn uses the painterly, energetic mark-making that forms her paintings of clouds in their early stages. While her paintings appear with a glazed realism, the prints retain the immediate rawness of the original paintings, providing the viewer with an interesting insight into Penn's creative process when constructing an image.
Viewed together, this bold body of work prompts our gaze to turn inward to interrogate a widespread blindness towards one of the most pressing issues of our time while re-considering our place on the planet as humble components, not masters, of the earth.
Follow the link for a review of her 2016 exhibition at David Krut Projects by Robyn Sassen.
Special thanks to Clint Corden for the production of the animation.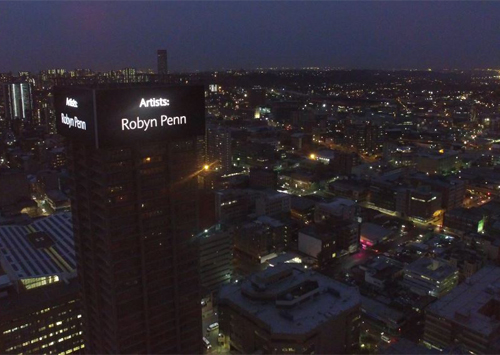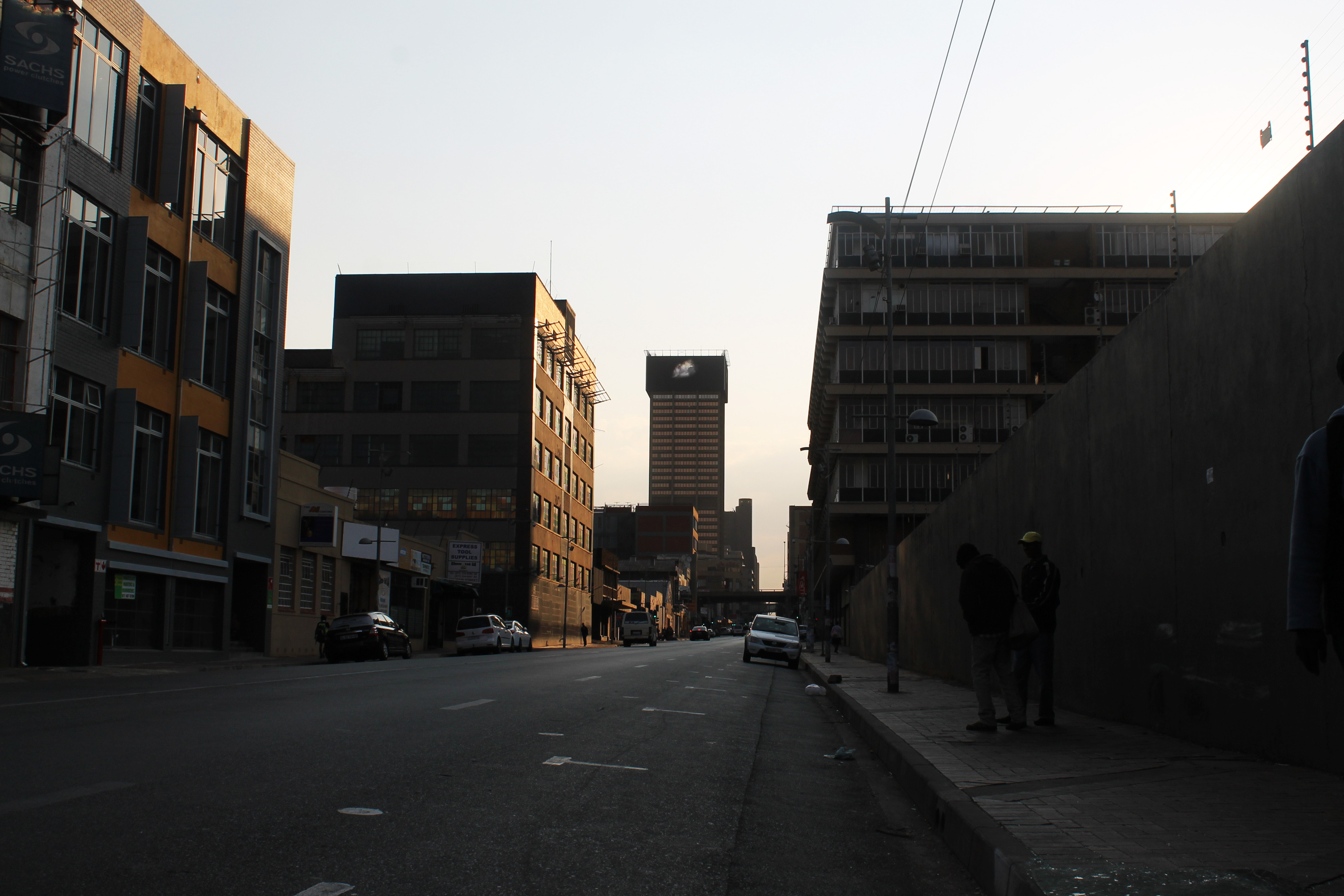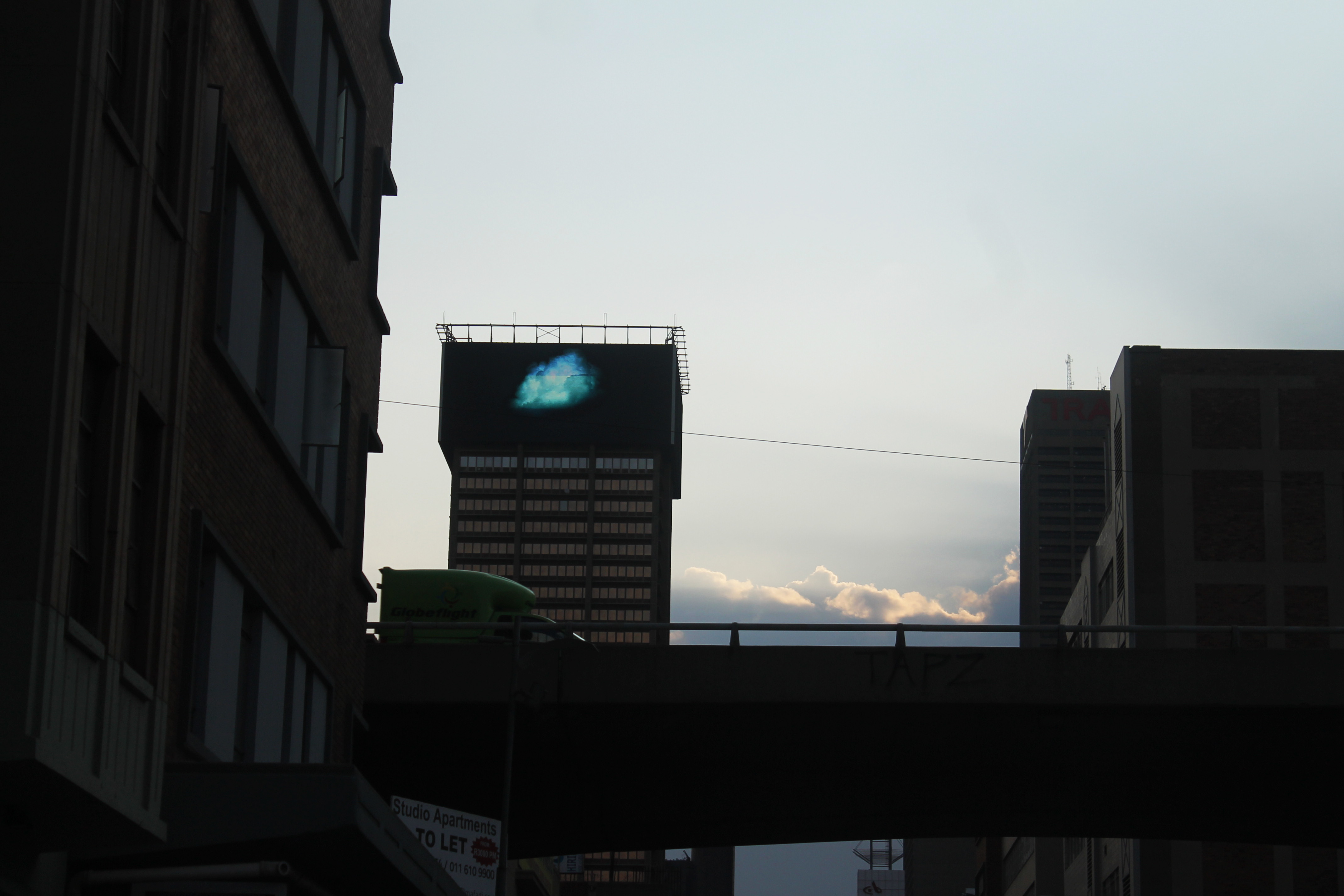 Sweep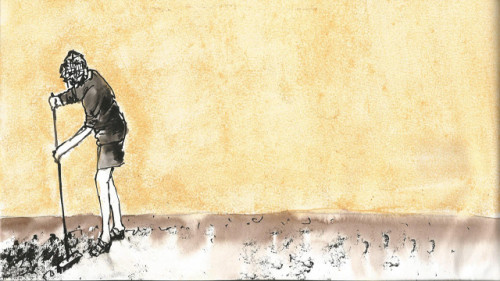 Seejarim has completed a number of prominent public art commissions and has a deep commitment to social development. With a background in art education at grass roots level and a propensity for scale through public art, Seejarim brings these together to create large scaled participatory and community based public art projects. Usha Seejarim holds a Masters degree in Fine Art from Wits University, Johannesburg, South Africa. She currently resides in Johannesburg and works between two studios, one being at the Bag Factory Artist's Studios.
The video is an animation comprising 280 drawings. It depicts a female figure sweeping across the screen from right to left. Common to Seejarim's work is the use of ordinary and mundane objects and activities. Here the daily act of sweeping is given attention as the private/domestic is amplified on a large scaled public platform. The everyday ritual of sweeping is echoed in the production process of animation through the repetitive act of drawing each successive frame.
Video and animation: Ciska Joubert & Terrie Liebenberg – Sweetthorn Productions
Tiina Liebenberg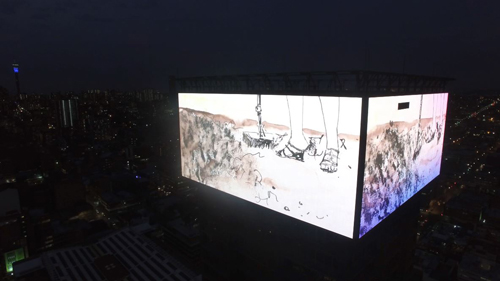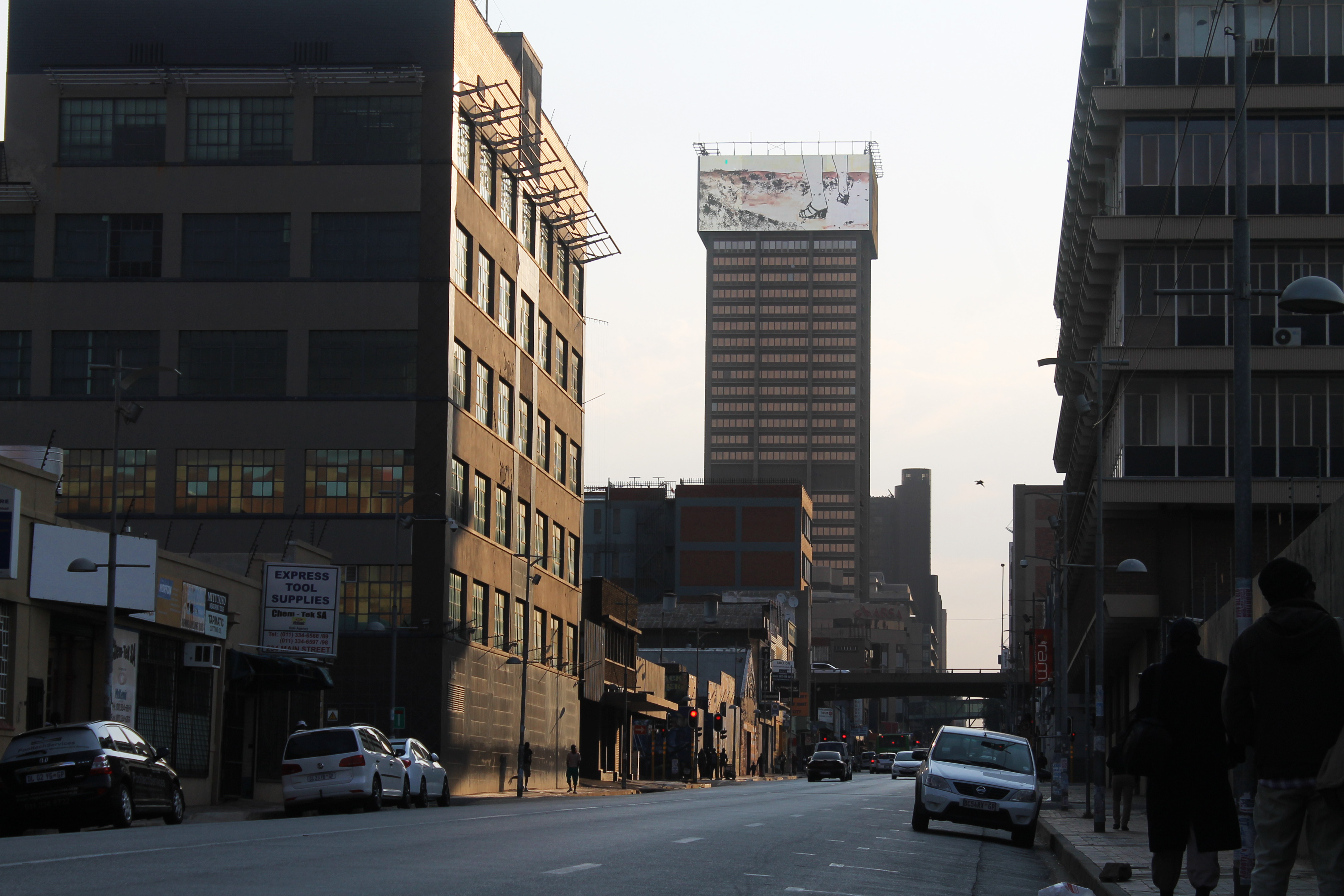 Mpho ya kopano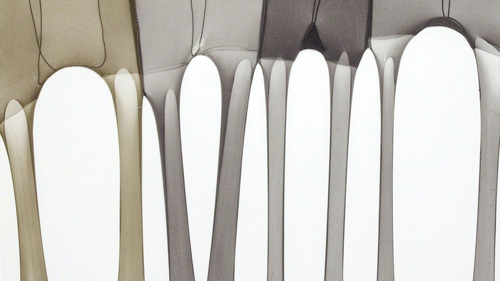 Magadlela lives and works in Johannesburg. Working primarily with common yet loaded fabrics, she creates abstract compositions by cutting, stitching, folding and stretching these materials across wooden frames. Magadlela's most recent solo exhibition, Impilo ka Lova (blank projects, 2015), employed pantyhose, a material imbued with notions of discreet femininity and eroticism, as a medium in which to articulate her personal experience of woman- and motherhood. The compositions are double-edged; suggestive of sexual intimacy and violence. Simultaneously, they are aesthetically seductive plays on colour, line, and form. A work from Magadlela's I never made Swan Lake (2015) series of pantyhose works will be on display at Pace Gallery's group exhibition 'Blackness in Abstraction', opening on the 24th of June in New York.
Magadlela has also used prison uniforms, beds and linens, in conjuction with 'kaffersheet', a beige fabric traditionally worn by Xhosa traditional leaders, to create monuments to the political prisoners of South Africa's Apartheid past, as well as an analysis of the social and psychological impact of imprisonment in the present day. The Kaffersheet series was displayed in a solo exhibition at the Johannesburg Art Gallery in 2015.
 The animation was compiled by Parts & Labour.
href="https://www.partsandlabour.co.za/wp-content/uploads/2016/09/IMG_5153.jpg">