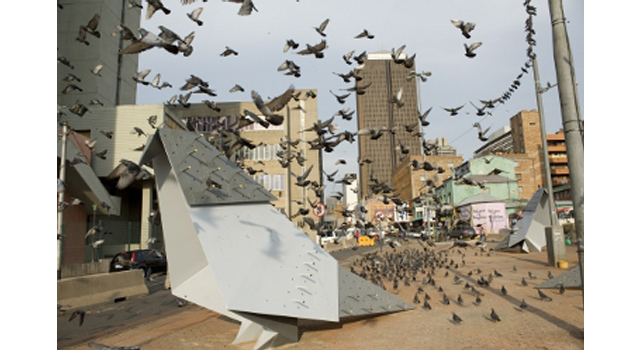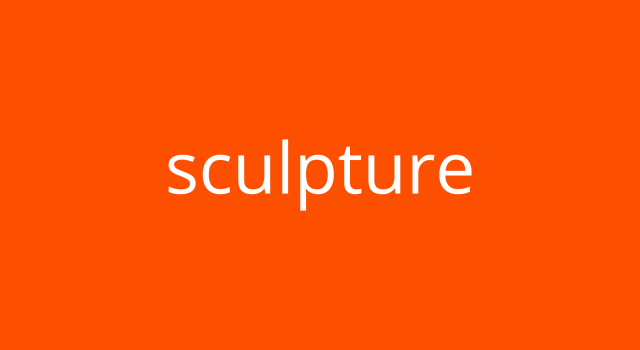 Pigeon Square | Gerhard Marx & Maja Marx | 2009
Paper Pigeon is a sculptural collaboration between artists Gerhard Marx and Maja Marx in Pigeon Square.
Three large origami-like pigeons, each of them standing at a height of three metres, dwarf pedestrians passing through Pigeon Square, Ferreirasdorp, Johannesburg.
Brendan Copestake managed the Pigeon Square Art Competition and sculpture fabrication and installation.
Constructed from steel, these large pigeons reference the oriental paper folding technique known as origami as homage to the oriental and Chinese community that has played a significant role in this part of the city.
The sculpture highlights the iconic presence of pigeons on Pigeon Square, not only in its visual reference to the pigeon, but also in serving as a perching pedestal for the vast resident pigeon community of Ferreirasdorp.
Perching rods have been attached to the sculpture in positions that choreographs the visual impact of the perched birds. The darker shapes of the seated birds complete the recognisable tonal markings of the local pigeons on the Paper Pigeon sculpture.
Gerhard Marx and Maja Marx Artist Statement:
In monumentalising the presence of pigeons on the square, the works acknowledges the continued relationship between the pigeons and the local community, who feed the birds on a daily basis. The pigeon is primarily famed for its profound homing ability, known as a messenger, and this focus on the home and community is appropriate to both its position in front of the Family Court and to those who enter or return to the city from its western side.
Brendan Copestake was hired by the commissioning agent, WITS School of Arts, to manage the project from its inception.
This included:
Project conceptualization
Running an open call art competition
Project budgeting
Contract management
Health & Safety Management
Procurement
Sculpture implementation
Project documentation
Artist | Gerhard Marx & Maja Marx
Client | Johannesburg Development Agency
Commissioning Agent | WITS School of Arts
Project Manager | Brendan Copestake
Fabricator | Estee Automation
Year | 2009

Cnr of Miriam Makeba and Market St Newtown Jhb